Background
My name is Sandra Zeinstra. I was born and raised in Harlingen. In 2011 I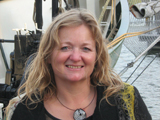 went back to my roots in Harlingen after living in other districts in the Netherlands for 28 years.
Experience
After about 20 years of working in the graphic industry, as prepress manager, account manager and other functions, I finally got to fulfill my childhood dream in 2007. I got a job as sailor and hostess on the luxury sailingship 't Wapen fan Fryslân'.
In 2008 I crossed the canal to London (Great Britain) and I worked as hostess/sailor on tallship The Artemis.
Because of my experience with catering companies on ships, I know how to separate the wheat from the chaff.

Vision
While working on these luxury sailing ships, I got to experience what this setting does to people. I think that "a ship" is a very inspiring environment for personal development, teambuilding, brainstorming sessions and company trainings or company parties , because you get to let go all of your day-to-day worries. You can also create an environment that's completely free of interference.
Above-mentioned and my slightly spiritual leanings (I absolutely have both feet on the ground) are the reasons why I decided to start my company "Scheepsarrangementen" in 2010, of which www.hotelshipsholland.com is a part.

My passions became my job!
Independent
I'm able to, unlike most shipping companies and booking agents, pick the most appropriate ship for you or your company that fits you and your demands.
Motto
Sometimes you have to change the direction to be able to reach the right harbor…